How much do you spend on your nails? Do you get acrylics or just a manicure? It seems that more women are doing more on their nails than anything lately. I was listening to MPR the other day and they were talking about how more women are spending more on nail polish than on lipstick. Has nail polish replaced lipstick in this economy? Well, nail polish can be very cheap to expensive it does have a more lasting effect. Lipstick you have to reapply a lot, nail polish on average every 7-10days. Acrylic fill every 2 weeks or if you have slow growing nails 3 weeks. Nail polish is not just the red and pink everyone is used to. More women are going for bold and vibrant colors. Greens, neon pinks, orange, and yellow. It is fun to play with color and even black nail polish can be chic now. No longer reserved for Gothic girls and guys, even Hollywood stars are wearing it. I know women have been wearing polish all the time but, it is growing in trend to have fun and funky nails. Even lacey nails are in and unusual patterned nails, like camo. This nail trend is going into everything women are wearing.
This summer more women are going with bright colors and vibrant prints. I am not sure if it is a major thing or just summer fashion. There are plenty of fun and adorable things to wear, either on your nails, as a outfit, or on your feet. This summer is color and lots of it! I know people start to focus on the fall but, hey it is ok to still talk about summer fashion. It is still hot outside!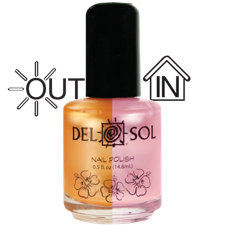 Free Sample with your purchase at SallyBeauty.com. Not valid on Gift Card or Beauty Club purchases. Use code 555138.
Free Shipping at SallyBeauty.com on all orders over $50
China Glaze Nail Polish
Shop e.l.f. Cosmetics - $1 Makeup